Bob O'Hara, Executive Officer
Bob O'Hara has been a nonprofit executive for most of his adult life.  His 35-year career with Boys & Girls Clubs has included work at all levels of organizational management, in four Midwest states.  With a great interest in the power of nonprofits and home ownership to benefit the entire community, Bob finds the Home Builders Association to be a natural fit for his talents.
Having an abiding commitment to the professional development of young leaders, O'Hara served on the national board of the Boys & Girls Club professional association for four terms.
Bob and his wife Sara have a long-standing interest in home renovation, having adopted and renovated a century-old home overlooking Lake Michigan in Wisconsin.  They recently returned to the Old Mission Peninsula, where Sara grew up, and plan to renovate her childhood home.
In his earlier years, O'Hara ran eight marathons – including the Boston Marathon, twice.  He is also an avid reader of history and mysteries.  His geek dream is to compete on Jeopardy!
O'Hara holds a Bachelor of Arts degree in Psychology and English from the University of Sioux Falls, and a Master's Degree in Public Administration from the University of Michigan.
Email  robert@hbagta.com
Debbie Perkins, Office and Education Coordinator
Debbie join the Home Builders Association of the Grand Traverse Area in June, 2015.  Debbie has been instrumental in expanding the education courses offered to members and the building community. She previously worked as the Office Coordinator for a local electrical contractor and funeral home.  Before moving to Northern Michigan, Debbie was the Office Coordinator for the Clark County Facilities Division, which oversaw the skilled trades, in Las Vegas, Nevada. "Outside of work, spending time with my 4 children and volunteering with the church are my greatest joys."
Email  debbie@hbagta.com
Najwa AboHadba , Events Coordinator
Najwa relocated to the Grand Traverse Area three years ago to focus on raising her daughter in the beautiful snowy up north Michigan. When "Naj" wasn't being a mom to her daughter, she assisted the women of Talbots with their visuals and sales. Before then Naj lived in Kuwait where she helped the edutainment brand KidZania take off as the primary training coordinator. As HBAGTA's Event Coordinator Naj hopes to help create more useful and memorable events for HBA members.
Email  najwa@hbagta.com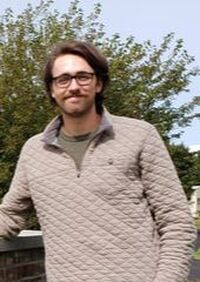 Christian Berry , Workforce Development Liasion
Christian is an AmeriCorps VISTA that joined the HBA in September of 2020 to support Workforce Development initiatives and the Build Your Life project. As part of this AmeriCorps placement, Christian also works with Habitat for Humanity as a Volunteer Coordinator. He is a graduate of Ohio University with a dual-major in Management of Information Systems and Management & Strategic Leadership, with a certificate in International Small Business Consulting. Prior to joining AmeriCorps, Christian has worked in Cybersecurity software sales, web design & development, and as a Teacher's Assistant for Analytics and Marketing Research at Ohio U. Outside of work, Christian enjoys backpacking, landscape photography, and reading.
Email  christian@hbagta.com